Never before has the reader had so much control over what information is seen, what product messages are heard, and if your articles or blog posts will have a lasting impression or die a quick death. Even if you're able to get your content delivered to your target audience through the right digital channels, your message only matters if your audience says so. Therefore, it's of dire importance to know your audience and tie your content and actions into what matters most to them. This is the Art of Relevancy.
So how do you create a winning strategy, and "remix" relevancy? Here are six tips that can help you get started. Or for some, this might serve as a good refresher:
Don't Guess…Get to know your audience
Too many times, marketers guess at what their audiences might be interested in instead of taking the time to get to know and understand them, and gauge what type of content excites and encourages them to share. What are the top social networks they're using, and which of these platforms should you dedicate your time posting content and engaging in conversation?
Lucky for you, loads of research has already been done on how just about every demographic is consuming content online. For instance, when targeting the college millennial audience, you would have greater success in reaching them on Twitter and Instagram; whereas you'd be wasting your time sharing millennial-targeted content on Facebook, which has a much higher population of Gen-Xers and Baby Boomers. One brand that does a masterful job of using this kind of intelligence is Starbucks. Starbucks is sharing millennials' love of imagery on Instagram by #Regram-ming fans' images through campaigns like their recent #WhiteCupContest. The contest asked followers to add some color to the classic white Starbucks cup and share their photos.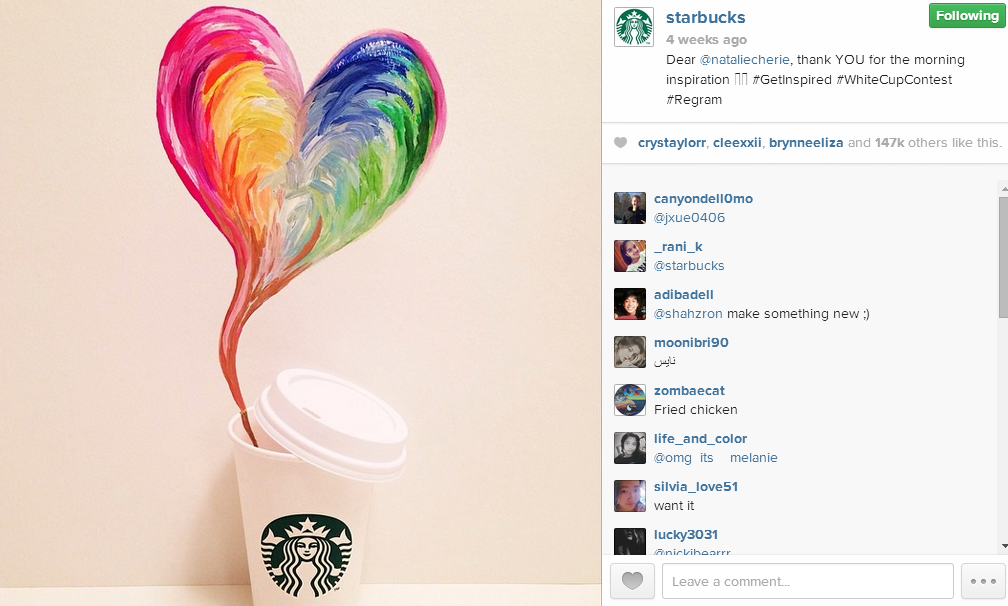 With this visually-oriented group of millennials, compelling video and graphics is most appealing and is the type of content to which they relate best. Brands like Starbucks, Ben & Jerry's, and Oreos have already cracked the millennial code by engaging with them and their content on primarily visual platforms like Instagram.
Unearth trending topics
Looking at different trending topics through daily news sources and social media channels may help spark ideas and give you a better understanding of what your audience is interested in at a higher level. Set up Twitter streams and lists in HootSuite based on keywords to see what your industry influencers are talking about and sharing online. Use these findings to interject yourself into the conversation and create fresh, compelling content to show your knowledge and thought leadership on these topics.
If you go to the Google+ Explore tab, you'll see that Apple's Worldwide Developer's Conference (#WWDC) was trending this week, providing a plethora of announcements of new products and trends that just about any business who uses Apple's technology could easily jump on board and use for content curation and more.
Be more visual
Images are easier to consume than text and therefore can be one of the best ways to deliver your message and appeal to your target audience. But not all photos, graphics or videos are created equal. Think in terms of high-quality, original images, infographics, photos, and video that will capture your target audience and inspire them to share with others in social networks. Tools like Piktochart, Visually, and Canva can help you create your own shareable masterpieces. Make sure to include relevant links with your images to ensure that you're sending all that traffic back to your website.
Get more personal through mobile
The average smartphone user accesses their device at least 150 times per day. Mobile devices have become pivotal to the lives of consumers and enterprise users, presenting an opportunity to integrate with your customers' usage for a more refined content strategy. Through predictive technologies such as Google Now and Beacons, marketers have access to users' personal data from various channels, allowing them to learn more about the customer and then in turn deliver timely, location-based information that can be personal and extremely relevant.
At CES this year, the conference committee experimented with iBeacons to create a scavenger hunt, for attendees, with the objective to encourage them to fully explore the event. People downloaded the CES mobile app onto their iOS or Android devices and then looked to find iBeacon badges throughout the conference venue, which recognized the users based on their location and prompted them with an action to win a prize.
Think about how your organization might use these newer technologies to gather information that you can use in a relevant fashion, through storytelling, special offers or targeted marketing campaigns.
Tap into your insights and analytics
While there are technological tips and tools to making your analytics efforts more effective, a strategic focus of being more relevant in your area of expertise through interesting posts, comments and shares, will result in greater traffic and sharing, as well as automatic organic search ranking and improved SEO. By utilizing analytical tools like Google Analytics, Hootsuite, and Buffer (just a few of Tier One's favorites), you can receive a keen overview of which PR and marketing efforts are working and are causing a buzz in multi-channels, and which areas may need to be revisited and revamped for greater impact.
So, how well do you know your target audience, and do you think you're doing a good job at creating relevant and meaningful experiences worth sharing? I invite you to give these strategies a try and let us know if you've found other helpful ways to develop deeper, lasting connections with your audience.