Of all of the social media giants dominating modern conversation, Snapchat undoubtedly comes with the most questions: How does it work? What's a snapcode? What exactly is My Story? Where are my friends? Are they even called friends on Snapchat? How do I get this darned app to work!?! And that's before you even consider the marketing opportunities available to brands.
While the millennial and Gen Z crowd seems to have Snapchat under control, the rest of the world appears to find this app confounding and less than user-friendly. We promise, Snapchat is something you can learn. And we're going to help you do just that in our new blog series on "Social FAQs."
Without further ado, here is our FAQ guide to Snapchat:
Key Terms
For those new to the Snapchat platform, its language can be confusing but it's not all that hard to decipher once you get under the hood. Here are some key terms you'll hear popping up time and time again:
Snap: Snapchat for "post." A snap can be a picture or a video. It is taken in the app and then sent to friends, added to your Story, submitted to a Local Story, or all of the above.

Snapcode: Each Snapchat account has its own unique Snapcode, a scannable QR code that makes sharing your account and adding friends a breeze. It's not the only way to follow an account (more on that later), but it is the most fun! Brands, be sure to add your logo (within Snapchat's best practices) and share on your other social profiles to build your following.
Discover: Snapchat Discover gives publishers (CNN, Vox, Mashable, and National Geographic, to name a few) a unique way to share daily news stories, and it's a fun way for users to catch up on headlines. The stories shared to the publisher's "Channel" refresh every 24 hours.

Story: Your Snapchat Story is content you share with all of your friends (for 24 hours) — again, content can take the form of a photo, video, or string of photos and videos.
How do I get started?
First things first, download the Snapchat app. Once the app is on your device, getting started is easy. When you open Snapchat, you'll be prompted with a welcome screen asking you to "Sign Up." Enter your email address and password, choose your Username (this will become your Snapchat identity so if a personal account make it your name, or if a brand account make it the name of the brand), and verify your phone number. Once all your information is entered, you're ready to start snapping!
How does Snapchat work?
This is admittedly a broad question, but a common one, so here's the 60-second lowdown: First, the most important thing to know (especially for brands) is that most Snapchat content is created within the app. Open the app and Snapchat's camera screen automatically loads. Now what? Here's a quick runthrough of creating content (created using Snapchat ;-):
Below (left) you'll see Snapchat's main camera screen. To take your first Snap, tap the circle at the bottom and hold the circle to take a video (up to 10 seconds).
Next, (above right) is what the screen will look like after you take an image. From here you can adjust the length of time viewers have to see your Snap (1-10 seconds) before sending, save your Snap, add it to your story, send it to a friend, but wait there's more...
Before you send your Snap on its way, feel free to add text, draw a picture, or add an emoji (or ten). The diagram below walks you through Snapchat's features to let your inner creativity run wild!
It's important to note that it is not possible to upload a previously taken photo or video from your phone's camera roll to your Snapchat account. The only exception is when you're sharing it within a private chat. You can, however, save your Snapchat photos to your camera roll before you send them or after they are posted to your story. To add a Snapchat to your story, take a photo, click the arrow, and select "My Story." By adding a Snapchat to your story, you are making it visible to all of your Snapchat friends.
How do I add friends and gain followers on Snapchat?

To reveal all the ways you can add a user on Snapchat or share your account with others, swipe down on the main screen and select "Add Friends."
Add By Username: Knowing someone's Snapchat username makes it easy for others to find and follow them on Snapchat. Just search the username and then select add. Brands are able to share their username on social with this unique link: http://www.snapchat.com/add/USERNAME

Add from Address Book: Contacts in your phone book that have a Snapchat account will appear here. Simply clicking the add button will follow them.

Add Nearby: Selecting "Add Nearby" will share your location with nearby users who can share their account information with you, as well.

Add by Snapcode: The Snapcode makes it easy for others to follow your account and for you to follow others. To add users with the Snapcode, a user simply has to open Snapchat and take a photo of another user's Snapcode. Find your brand's Snapcode by swiping down on the main photo screen, clicking the Snapcode to enlarge, and saving it to your camera roll.
The easiest way for brands to draw attention to their Snapchat account and start gaining followers is to share your Snapcode and Snapchat username on your existing social media accounts.
What's the difference between a Story, Live, and Discover?
Story: A Snapchat story is a string of snapchats that is live for 24 hours. Anyone can add any personal snap to their own story for their followers to see by swiping right and selecting "Add to my story."

Live: Snapchat's Live feature is a public story typically based on event or location. Any Snapchat user can submit a Snapchat to a Live story to which they're in proximity. Once a photo is taken, swiping right will reveal the option for users to send that photo to friends, upload it to their personal story, or submit it to a Live story.

Discover: Snapchat Discover is a grouping of unique channels for select publishers. Each channel publishes daily editorials that refresh every 24 hours. With outlets like Mashable, CNN, The Wall Street Journal, Vox, and Buzzfeed (to name a few), Discover is a great resource for daily news.
What's a geofilter?
Snapchat geofilters are location-specific overlays. Like these: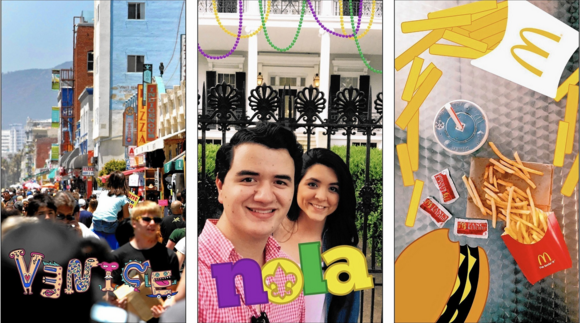 And good news! Snapchat recently announced the ability to make custom, On-Demand geofilters — perfect for your next big event.
Who's using Snapchat?
If you thought Snapchat was a platform just for millennials, you're mistaken. Yes, the app is populated mostly by millennials, but not exclusively. In fact, Snapchat's demographics are swiftly changing and the app is targeting users over the age of 35 more than ever. As of January 2016 Snapchat's users between the ages of 18-24 grew 56%, while its age 35+ user base grew a whopping 84%. Not to mention 12% of nearly 50 million daily Snapchat users are between 35 and 54, and you can expect to see that number grow over time. In the meantime, having a lot of coveted millennial consumers on the app isn't a bad thing as it makes for a more targeted marketing campaign.
How can brands use Snapchat?
Popular belief aside, Snapchat is not just for personal use and ugly selfie sending. Many brands, businesses, celebrities, and the like have grown their Snapchat following and utilize the platform to share quality content every day. Here are a few ideas to get you started:
Take your brand's followers behind the scenes of your company or introduce them to your team.

Use an On-Demand geofilter at your next event. Starting at just $5, these popular location-specific filters will promote Snapchat engagement while extending the reach of your brand. Dunkin Donuts is an avid user of the seasonal geofilter:
Host an online release party, or announce a major launch via your brand's account Snapchat story. Taco Bell, a long-time Snapchat rockstar, used the platform to tease and announce the arrival of its breakfast menu:
Gain valuable feedback and insight from your followers by hosting a

"Screenshot Survey

." You'll be able to see every time someone screenshots your Snap, so prompting followers with a question and then asking them to screenshot one of the following images will allow your brand to note how many users participated in the survey and where their sentiments lie. Birchbox used a screenshot survey to poll its customers:
Take full advantage of all the features Snapchat has to offer. You can see below how General Electric added both text and illustration to its Snaps prior to posting. GE is particularly adept at getting creative with its Snap illustrations:
And if you're looking for a well-designed, interactive way to stay up to date on "what the kids are talking about," check in with Snapchat Discover stories for all the latest news and trending topics. For example, CNN's Snapchat Discover story following the attacks in Brussels:
Unfortunately, Snapchat only allows for account login on one device at a time. When the account is logged in to from a new device, the app will bump out anyone currently logged in on a different device, making it difficult for a Snapchat to be manned by multiple people (short of a detailed Snapchat user schedule!).
What do brands get out of being on Snapchat?
Chances are most of your competitors aren't on Snapchat (yet), so joining forces with the ephemeral photo app will definitely help your brand make a splash. With a targeted audience, a personal touch, and fun flair, Snapchat has a lot to offer. Snapchat users are also watching 8 billion videos every day. That's right, thanks to its highly engaged user base, Snapchat caught up to Facebook in just a matter of months. The audience is there, now get your brand out there too.
How can results be measured?
No native tools for measuring Snapchat…yet. Snapchat is still a new and evolving platform. But you can learn a lot about your audience by understanding the way they view your brand's story.
Unique Views: The number of users who opened up the first frame of your Snapchat story for at least a second. Find your brand's unique views by looking at the number of users who opened the first snap in your story.

Total Views: If your story has multiple snaps in it, Snapchat will tell you the number of users who completed viewing your entire story. To see this, look at the number of users who viewed the last snap in your story.

Screenshots: Snapchat shows users how many users took a screenshot of their Snapchats. As mentioned earlier, these screenshots can be utilized as an engagement tool.
Recently Snapchat announced that TV ratings tracker Nielsen will be tracking its analytics for marketers. Nielsen will measure the ads that appear in Snapchat's Discover and Live Stories feeds, providing insights on demographics, audience reach, frequency and more. Nielsen will likely branch out and offer analytics for sponsored geofilters and lenses as well.
---
Final Thoughts:
Don't let the lingo or mechanics of Snapchat stop you from getting started. Snapchat's ephemeral nature can make this social tool difficult to quantify and measure, but it also makes it easy to experiment with. Have fun with it, try something new. You may find a great new tool to spread the word for your brand!