Snapchat is a tried-and-true platform that has held its own through the ever-evolving social media landscape. But with new apps like TikTok to compete with, the Snap app has continued to add new features, some which can leave even the savviest of brand marketers scratching their heads.
Since the millennial and Gen Z crowds seem to have Snapchat under control, brands need to know what a snapcode is, the difference between a filter and a lens — and most importantly, how to use the ephemeral app. You may find Snap confounding and less than user-friendly than other social media platforms, but we promise, it's something you can learn. And we're here to help you do just that with our FAQ guide.

Key Terms for Marketers
If your brand is just getting started with Snapchat, the language can be confusing. But master a few key terms and you'll be snapping like a pro in no time:
Snap: Snapchat for "post." A snap can be a picture or a video (that ranges from one second to an infinite amount of time). It is taken in the app and then sent to friends, added to your story, submitted to a Local Story, or all of the above.

Story: Your Snapchat story is content you share with all of your friends (for 24 hours) — again, content can take the form of a photo, video, or string of photos and videos.
Snapcode: Each Snapchat account has its own unique Snapcode, a scannable QR code that makes sharing your account and adding friends a breeze. It's not the only way to follow an account (more on that later), but it is the most fun. Brands, be sure to add your logo (within Snapchat's best practices) and share on your other social profiles to build your following.
Lens: Perhaps Snapchat's most popular feature, lenses allow users to distort, decorate, and morph their faces — and their surroundings — in cartoon-like manners with augmented reality (AR) technology. You can find examples here.
Filter: Unlike Lenses, Snapchat filters are layovers that you add after capturing your photos and videos for added effect. These let you show off your location, speed, temperature, and time or change the color tones of your photos


Note: If you're willing to put some money behind it, you can create your very own brand lenses and filters.

Discover

: Snapchat Discover gives publishers (CNN, Vox, Mashable, and National Geographic, to name a few) a unique way to share daily news stories, and it's a fun way for users to catch up on headlines. The stories shared to the publisher's "Channel" refresh every 24 hours.
Who Uses Snapchat?
If you thought Snapchat was a platform just for millennials, you're mistaken. Yes, the bulk of Snapchatters are 18 to 30 years old and the app is populated mostly by millennials, but not exclusively. In fact, Snapchat's demographics are swiftly changing and the app is targeting users over the age of 35 more than ever. As of December 2019, Snapchat had 210 million daily active users, of which 25% of those are 30 to 49 year olds and 9% are 50 to 64 year olds (a number you can expect to grow over time). In the meantime, having a large number of coveted millennial consumers on the app isn't a bad thing since it allows marketers to create more targeted campaigns.
How Can Brands Use Snapchat?
Many businesses, celebrities, and the like have grown their following by utilizing the platform to share quality content every day and interacting with the app's highly engaged audience (which watches 14 billion videos every day). Here are a few ideas to get you started:
Take your brand's followers behind the scenes of your company or introduce them to one of your teams.
Capitalize on Snapchat ads. With varying formats, your brand's site, product, video, and more are all one swipe away. Bumble, for example, takes advantage of sponsored stories, which show up in between your friends' stories.
Use an On-Demand geofilter at your next event. Starting at just $5, these popular location-specific filters will promote Snapchat engagement while extending the reach of your brand. Target is an avid user of seasonal geofilters to get shoppers in the holiday spirit:


Promote a product launch or break a big announcement by creating an on-brand lens or filter. X-Men did a massive Snapchat takeover to help promote the release of "X-Men: Apocalypse" and it received millions of views.


Gain valuable feedback and insight from your followers by hosting a "Screenshot Survey." You'll be able to see every time someone screenshots your Snap, so prompting followers with a question and then asking them to screenshot one of the following images will allow your brand to note how many users participated in the survey and where their sentiments lie.
Get creative with eCommerce opportunities on Snap. By developing a custom QR code, consumers can scan it and be sent directly to your brand's product or service page. Take LEGO, for example. During last year's London Fashion Week, the toy giant teamed up with Snapchat to launch an augmented reality pop-up store that was only accessible via QR code. Once a user scanned the code, they entered a virtual store that promoted a limited-edition clothing line.
And if you're looking for a well-designed, interactive way to stay up to date on "what the kids are talking about," check in with Snapchat Discover stories for all the latest news and trending topics. Here, marketers can keep tabs on relevant topics and use the news to start a conversation with its audience.


Above all, have fun. The app comes equipped with endless gadgets and gizmos to show off your brand's creative side. Our recommendation? Play around with the app's features and bring your brand to life.
Stay up to date with the latest digital marketing headlines and know-how with The Spark newsletter.
How Can Marketers Measure Results?
Snap superstars, influencers, and celebrities with large followings have access to Snapchat Insights where they can learn more about their audience and how they engage with content. For those of you that don't have a large following (yet), your brand can easily measure:
Unique Views: The number of users who opened the first frame of your Snapchat story for at least a second. Find your brand's unique views by looking at the number of users who opened the first snap in your story.
Total Views: If your story has multiple snaps in it, Snapchat will tell you the number of users who completed viewing your entire story. To see this, look at the number of users who viewed the last snap in your story.
Screenshots: Snapchat shows users how many users took a screenshot of their Snapchats. As mentioned earlier, these screenshots can be utilized as an engagement tool.
Since 2017, Snapchat has been partnering with Nielsen to measure audience reached by advertising on the platform, providing insights on demographics, audience reach, frequency, and more.
What If Your Brand Is Totally New to Snapchat?
The most important thing to know is that most Snapchat content is created within the app. Open it and Snapchat's camera screen automatically loads. To take your first Snap, tap the circle at the bottom of the main camera screen and hold the circle to take a video (up to 60 seconds).
On the following screen, you can adjust the length of time viewers have to see your snap (one second to infinity), save your Snap, add it to your story, and send it to a friend.
Before you send your snap on its way, you can also add text, draw a picture, or add an emoji (or 10). These screenshots ID Snapchat's various creative features:
If you don't feel like taking a photo or video on the fly, you can upload files directly from your camera roll to your Snapchat account. You can also save your Snapchat photos to your camera roll before you send them or after they are posted to your story.
To add a Snapchat to your story, take a photo, click the arrow, and select "My Story." By adding a Snapchat to your story, you make it visible to all of your Snapchat friends.
A Snap sent to no one may make a sound, but it won't drive much engagement. To add friends and start building a following, use any of these processes:
Add by username: Knowing someone's Snapchat username makes it easy for others to find and follow them on Snapchat. Just search the username and then select add. Brands are able to share their username on social with this unique link: http://www.snapchat.com/add/USERNAME


Add by mention: If you see a story that has another Snapchatter mentioned, you can swipe up on the story and add that person.


Add by Snapcode: The Snapcode makes it easy for others to follow your account and for you to follow others. To add users with the Snapcode, a user simply has to open Snapchat and take a photo of another user's Snapcode.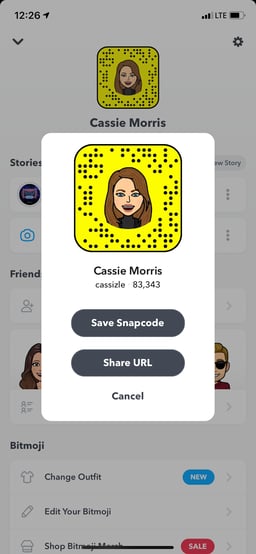 How Can Marketers and Gain Followers on Snapchat?
Beyond the clear-cut ways to add friends on Snapchat, brands can use strategic methods to increase their following. Our advice? Draw attention to your account by sharing your Snapcode and Snapchat username on your existing social media accounts. Posting a picture of your Snapcode gives users a seamless way to access your profile and increases the likelihood that they will follow your brand for more. Make sure to share samples of your Snap presence to show the people what you have in store for them.
To really extend your reach, try capitalizing on partnerships (on and off the app). Let's say your brand partners with another, more well-known company and they mention your Snapchat name in their story — or in a social post on another channel. This will drive even more potential followers, positioning your brand to rise to Snapchat stardom.
Even with the rise of the even more complex TikTok, Snapchat still remains a mystifying experience for many marketers. Despite its UX challenges, the personal connections Snap enables has made it a worthwhile platform for brands looking to engage with Gen Z and millennials. Armed with a few best practices and FAQ answers, brands can stop being haunted by the ghost and start snapping up all the marketing opportunities it has to offer.
Ready to step up your social strategy? We'd love to help you and your business find the right plan to meet your business goals. Contact us here to start stepping up your social media marketing.
Editor's Note: This post was originally published in March 2016 and has been updated.