Last week, Tier One had the pleasure of attending a Boston Ad Club CMO breakfast with B.Good at Google's Cambridge, Mass. offices. Even if you've never had a bite of B.Good's food, there's plenty to love about this innovative restaurant. B.Good's mission is all about making "real food" by "real people," instead of factories. This translates into a tasty, "real experience," with great food that lives up to these core values.
We got to learn more about this ingenious brand directly from the source -- B.Good's co-founder and CMO, Jon Olinto. Following are some key takeaways that are bound to leave you inspired (and hungry):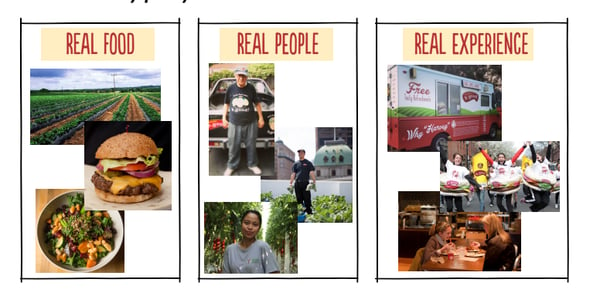 Dare to be Different
Like most of us, Jon and his co-founder, Anthony Ackil, loved the taste of fast food, but hated how it made them feel. These childhood friends had always talked about opening their own restaurant together, but it wasn't until 2002, when both men were unhappy at their corporate jobs, that they decided make a change. Since this was a time where fast-food restaurants were anything but healthy, Jon and Anthony didn't get the best initial feedback on B.Good's concept. But despite the naysayers, B.Good opened its first location in 2003. Fast forward 11 years, and B.Good is not only a financial success, but more importantly, it's a place where you can feel good about the food you eat. You know what's in your meal, who made it, and why it tastes great. With 17 current restaurants and plans to expand to 30 restaurants by next year, B.Good's different approach to fast food has turned out to be a clear success.
People Tell the Best Stories
B.Good's brand and concept is all about the power of people. At the earliest stage of the business, Jon and Anthony wanted to tell the story of everyone involved - whether that was the co-founders themselves, customers, the farmers, or restaurant staff. They wanted to celebrate their people and company culture, further enforcing that founding principle: "food served by family." This concept is shown in literally all of B.Good's marketing collateral, exemplified in the videos below. The first tells the story of a farmer in Maine who supplies B.Good's vegetables, while the second stars a beloved B.Good employee who takes us through his cooking process at the Harvard Square (Mass.) location.
B.Good also strives to make people part of the "real experience" by raising money for charities and holding contests to benefit customers. An example that really stuck out for me was Jon's story of the "Burger Brigade." Five years ago, the co-founders received a funny email from one of their family members, who told them he would run the Boston Marathon in a burger suit if they helped him hit his charitable fundraising goal. That quirky idea turned into a serious charitable effort - 24 B.Good family members ran the Boston marathon last year dressed in burger and fry suits, and raised $20K for Back on My Feet. This year's goal is 100 "burger-runners" and a $100K fundraising goal, which will be donated to another charity. B.Good's focus on its own people not only builds a strong workforce, but lets customers feel good about eating in a place where community is celebrated and offers them the opportunity to be a part of that community by getting involved.
Create Your Own Playing Field
Think about how many bakeries, burger joints, sandwich shops, pizza places and on-the-go Mexican restaurants you know. I know of a ton, just like Jon and Anthony, who took that knowledge and decided to create their own category. B.Good doesn't claim to have the "best" of anything like most fast-food companies - instead, they ensure their menu reflects a variety of different foods based on the season, ranging from seasonal salads and quinoa bowls to fresh fruit and vegetable smoothies. B.Good's differentiated concept and diverse menu does not compete directly with any of the current fast-food leaders - they're in their own playing field.
These are only three great takeaways from Jon's presentation. Going in, I had no idea how much there was to learn about business, branding and marketing from this local Boston fast-food company. Jon and Anthony's approach to going in a whole different direction than the typical fast-food chains demonstrates daring to be different can lead to success, and celebrating community can lead to epic customer satisfaction. Next time you're in Massachusetts, New Hampshire, Maine, Connecticut, Rhode Island, Pennsylvania, New Jersey, Washington DC, North Carolina, (and even Ontario) be sure to pop into a B.Good restaurant to learn more about this innovative company - and of course, to enjoy some "real" food.
Image Credit
All images from B.Good.com: B.Good