As a PR, content, and social agency, we thrive on being on top of digital trends, which is why when this year's Internet Trends Report from Mary Meeker of Kleiner Perkins was released this week, we immediately immersed ourselves in the latest data.
What's the latest? What's been successful? Where is the industry headed? The full report covers 355 pages of in-depth content on everything from global internet trends, online advertising, the cloud, digital healthcare, and so much more. While there are so many interesting angles to explore from the report, here are what we deemed the most relevant tidbits to boost your online strategies.
Trend: Users are opting out and blocking the content they don't want to see.
Why It Matters: With more choice than ever in the hand of the user, it's incredibly important to create the content people want before your target audience chooses to tune you out.
Trend: Internet users are pushing along on mobile.
Why It Matters: Desktop use is holding its own, but there's no more denying that users are using their mobile devices, so brands should be utilizing mobile content in their strategies. Formatting content not only for your audience but where your audience is essential. Whether that's vertical videos on Snapchat and Instagram stories or captions on Facebook, embrace the mobile audience.
Trend: While the majority of mobile device users fall into a younger demographic, they're not the only ones checking in on their phones.
Why It Matters: If your demographic goes beyond millennials, don't ignore mobile platforms as a way of reaching your audience. You might just be overlooking your target audience.
Trend: Video, video, more video, (did we mention video?) and even more video is on the rise.
Why It Matters: Even if we sound like a broken record, video content has proven itself to be the way of the future on social platforms. If your content plans haven't headed in the way of video yet, what are you waiting for?
Trend: Platforms like Facebook and Snapchat are taking some of YouTube's share as video content continues to be shared.
Why It Matters: If you've been itching to create the next piece of viral content, or even just more than the usual eyeballs on your posts, exert your efforts no further than video which has proven to be a magnet for fingers to the share button — And don't confine your content to only one platform.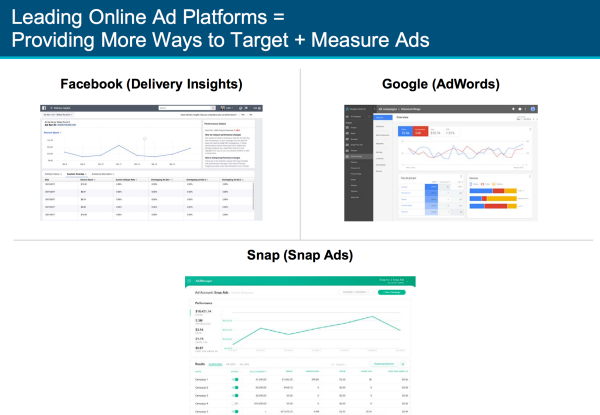 Trend: Brands want better ad targeting options online.
Why It Matters: Maybe, just maybe, a Mary Meeker callout will be what it takes to get better targeting and measurement on social platforms (we're looking at you, Snapchat).
Trend: Customer service chats have skyrocketed.

Why It Matters: Users have taken to social for years now, but customer service chats step in where Twitter cannot, and when time is of the essence typing a quick message is a lot easier than picking up the phone.
---
When it comes to digital marketing strategies, one of our key takeaways is that mobile and video and mobile video are paving the way in 2017 (and most likely years to come) making now the time to brush up on your own video skills. We'd love to hear your thoughts! What stood out to you the most from Meeker's report?