If you've browsed your Tumblr lately, you've probably seen a boat load of GIFs dominating your feed. For those of you are aren't familiar with GIFs, they are video animations using video or images to create a short-form clip. Many times these are used to share memorable movie scenes, promote upcoming movie trailers, to capture an emotion, or to highlight impressive athletic events. And here's a rookie mistake you'll want to avoid -- GIF is actually pronounced "JIF" (as the good people at the J.M. Smucker Company take delight in reminding us!).
Even though it seems GIFs have gained in popularity over the past couple of years, they are actually approaching their 27th anniversary this month. To celebrate the occasion, we've assembled the best ways marketers are taking advantage of the GIF animation feature and how you can DIY for fun or business.
How GIFs Are Being Used By Brands
According to Adweek, the most popular sponsored GIF on Tumblr in 2013 was a scene from Universal Pictures' "Despicable Me 2." The GIF generated 315,000 notes and of that, 58% reblogs. As Tumblr's Global Head of Brand Partnerships Lee Brown put it, "It's in a visual language that people can rip, remix, while representing how they are expressing themselves on a certain day."
Brands that don't fall far behind Universal Pictures in scoring big reshares include AT&T, who used a scene from their #it'snotcomplicated commercial campaign around Mother's Day, Veteran's United, who ran a July ad to promote patriotism, and Sony, which used the boy band One Direction to demonstrate their behind the scenes behavior to the tween following.
An alternative style of GIFs is used by brands like American Express who animate still images with graphic elements creating movement. An example of this is seen below in the GIF on how taking a different route can boost creativity.
Lastly, many brands use GIFs to promote events. I'm not just talking on a small, local scale, but a global event like the 2014 World Cup. Twitter experienced an outage during the 2010 Cup, but says it's better prepared this year to keep up their site for what is considered the world's most watched sporting event. As part of Twitter's preparation, GIFs were created to promote its use during the Cup (as seen in the example below shared by Fast Company). Pretty creative, right?
How To Make a GIF
If these GIFs inspired you to get started on your own, you'll find a number of programs to help you easily create these fun animations. For instance:


Final Thoughts
All in all, consumers like GIFs because they catch the eye. They're also an excellent tool for marketers to make a call to action or tell a story. B2B companies, like Tier One and many of our clients, use this approach to share behind the scenes action or their latest accomplishments. In the example below, Tier One took a more challenging route and used Photoshop to create a GIF for Fluent Group's NCAA student athlete survey data.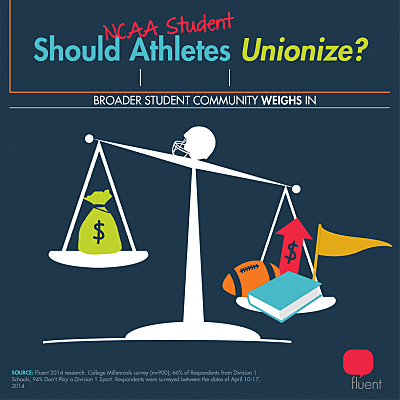 The best part about GIFs is how easily they can be made from your computer or on the go using a mobile app -- but they can also offer you a creative challenge. So what are you waiting for? Get moving on incorporating GIFs into your content arsenal today.
Want to learn more? Check out these great resources on GIFs:
Image Credits: